Services
Wing Shooting - Upland Guiding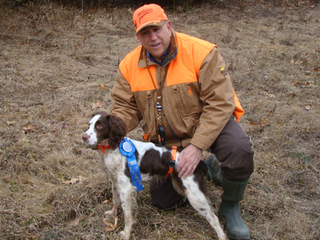 Wow......
Want the Upland hunt of a lifetime, shooting Chukar, Huns, Quail, or Pheasant, over 3 AKC Champion Bird Dogs? Then look no further. Tom and his 11 year old Brit, "Sugar", 6 year old "Nutmeg", and newest SPICE GIRL, 3 year old Ginger, will provide you with a day you will never forget. Weather it be your private land, stocked with the game birds you desire, a local preserve, or the ultimate hunt, at TMT Hunting Preserve, in Clinton Corners or Judson's farm in Amenia.........we can set you up with anything you desire. Warm up with some clay targets, then stalk the upland bird of your choice, followed by lunch or dinner, depending on hunt time.............a relaxing after dinner drink, and memories to last a lifetime. We can even send you home with a DVD of your hunt, to prove not one bird got away. One call can set all this up for you and your party.
Got an idea...............let us make it happen. Group outing, Bachelor Party, Birthday, or any event. I can make the day a great one for you. Want to get your son or daughter out in the field? No problem. I can provide instruction before your hunt, and help your newbies every step of the way, in a safe, fun, natural setting. You son or daughter will be talking about this "adventure" for years to come. Got a group of buddies who brag about the "One that never gets away"...............how bout we put a few Huns out for them to test their skills on. They may be singing a different tune by the days end. We even have overnight hunts at Marshtown Preserve in Dover, DE. Lodging, food, and two days of great hunting can be yours.........just pick up the phone for more info.

Whatever you would like to make your hunting experience the most memorable possible, we will go that extra mile for you. So, what are you waiting for............give Tom a call, and let's see what we can provide for you. LET ME PLAN THE HUNT OF A LIFETIME FOR YOU............................

Gun Fitting
Can't figure out why you are missing, but everything seems correct? Maybe it is your gun fit. Is it shooting where you are looking? Or is that gun your father gave you smacking you in the face, each time you pull the trigger? A proper gun fit will help these and many other problems. Let me measure your present gun, have you shoot my "try gun" on the patterning board when we have a good fit for you, and compare that to the present gun you are shooting. I am sure you will be very pleased with the results. Give Tom a call, and let him check your gun today. You will be glad you did. Our gun fit usually takes around two hours, and includes time on the patterning board and on the course. Each fit also includes the exact measurements for you, and the measurements of your old gun. Remember, if your gun does not feel right.............most likely IT ISN'T. Let me help you today to less recoil and higher scores.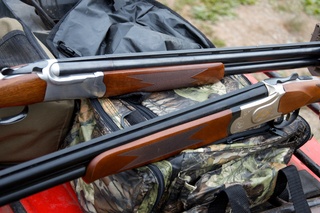 Mental Training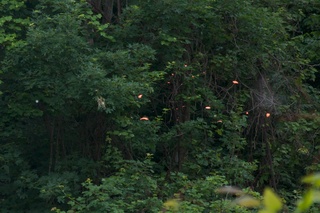 Do you shoot not to miss? How long is your "Pre-shot Routine"? How about this...."I only need 2 more birds to win". I shot 13 stations great..........the last two I tanked on....how come? That little guy on my shoulder keeps telling me to measure that lead....how can I get rid of that guy?
If this sounds like you, then you need me. Sporting Clay's is 20% mechanical, and 80% mental, and if you are not properly prepared, you are in big trouble. Tom's MEd. in Sports Psychology and Human performance, as well as 33 years in the classroom and athletic fields, has allowed him to mold the teams and athletes he has coached, and release the demons that hold back performance. The same methods and techniques he has used to develop his gymnasts into top performers in the 80's, he has now tweaked and is now using for the shooters he is coaching.
If you are a competitive shooter, and you desire to push for 2-5 birds a round, proper mental focus and performance is a must. Let me help transform:, OMG, not another Rabbit station!, to, Another Rabbit station? Watch them explode! Learn how to practice, goal setting, visualization, mental imagery, how "chirp" hinders you, "Letting go", mental blocking and much much more.
Tom's mental training, is more of an "awakening" rather than just lessons. Mental training is as much of a practiced entity as shooting crosser's, but you have to be trained. Let Tom's straight forward methods, help you on the course, and in life. If you are a competitive shooter and this sounds like you, give Tom a call and together let's plan a road map to success in shooting and in life.